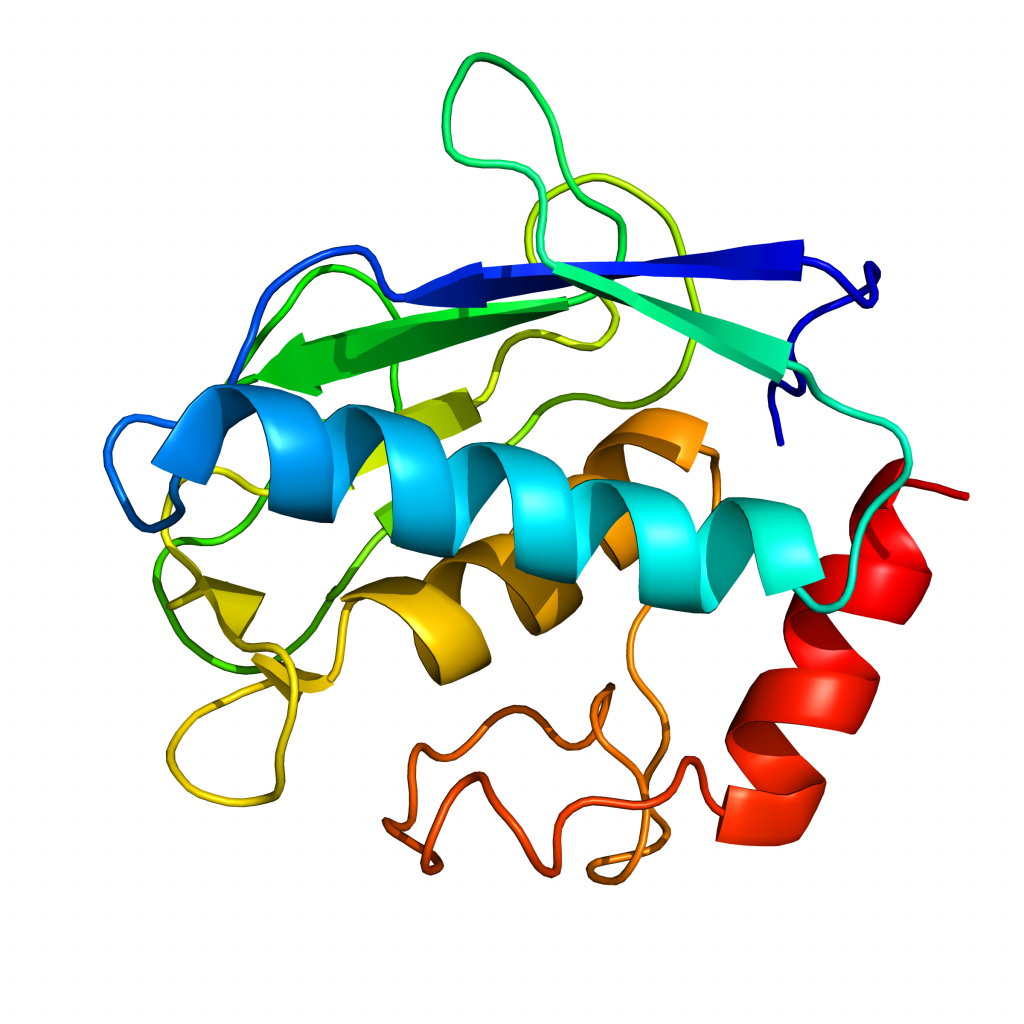 MMP12 - catalytic domain, mutant with improved stability
210,00€ – 680,00€
Human, recombinant
Residues 106-263, UniProtKB accession P39900
MW = 17.6 kDa
EC # 3.4.24.65
CAT # G04MP12Cm
For any special request or bulk quantities Click Here
Additional information
| | |
| --- | --- |
| Qty | 10 μg, 5 x 10 μg, 100 μg, 5 mg |
| Shipping in Dry Ice | yes |
Description
Description
MW = 17.6 kDa. Recombinant matrix metalloproteinase-12 (MMP-12, metalloelastase, macrophage elastase) cloned from human cDNA, expressed in E. coli. The enzyme consists of the catalytic domain of human MMP-12 (residues 106-263, UniProtKB accession P39900) with the mutation F171D. The protein has been mutated to increase its stability, as the mutation drastically reduces the enzyme's rate of autoproteolysis. The catalytic activity rates are not affected by the mutation.
Sequence
       110        120        130        140        150
   M-GPVWR KHYITYRINN YTPDMNREDV DYAIRKAFQV WSNVTPLKFS
       160        170        180        190        200 
KINTGMADIL VVFARGAHGD DHAFDGKGGI LAHAFGPGSG IGGDAHFDED
       210        210        220        230        240
EFWTTHSGGT NLFLTAVHEI GHSLGLGHSS DPKAVMFPTY KYVDINTFRL
       250 
SADDIRGIQS LYG
Purity
> 95% by SDS-PAGE. The protein is observed, in denaturing conditions, as a single band migrating at a molecular weight between 14.4 and 18.4 kDa.
Supplied as
0.2 mg/mL solution in Tris 20 mM pH 7.2, CaCl
2
10 mM, ZnCl
2
0.1 mM, NaCl 0.3 M, acetohydroxamic acid (AHA) 0.2 M. The concentration is calculated by the analysis of the absorbance at 280 nm, (ε
280
= 26930 M
-1
cm
-1
calculated).
Specific activity
> 40 U/μg. Activity described as U=100 pmol/min at 25°C using a colorimetric assay with thiopeptide Ac-Pro-Leu-Gly-[2-mercapto-4-methyl-pentanoyl]-Leu-Gly-OC2H5 (Biomol) as substrate.
Storage
-80°C. After initial defrost, aliquot the product into individual tubes and refreeze at -80°C.
Avoid repeated freeze/thaw cycles.
RELEATED RESEARCH FIELDS
References
I. Bertini, et al. Proc Natl Acad Sci U S A. 2005 Apr 12; 102(15):5334-9.
S.D. Shapiro. Curr. Opin. Cell Biol. 1998, 10, 602.
S.D. Shapiro et al. J. Biol. Chem. 1993, 268, 23824.
A. Belaaouaj et al. J. Biol. Chem. 1995, 270, 14568.