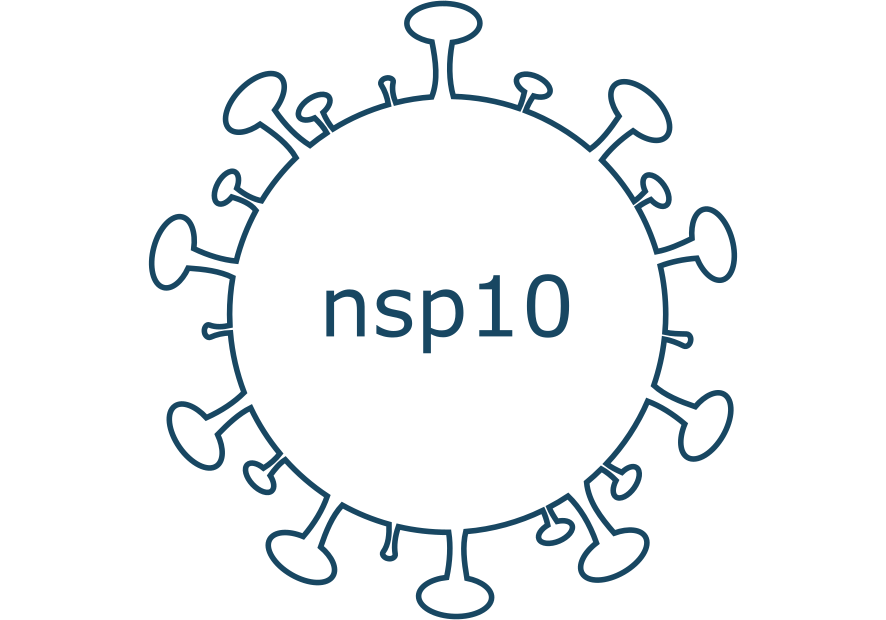 NSP10
300,00€ – 1.500,00€
from SARS-CoV-2, recombinant
alternative name: growth-factor-like protein, GFL
Residues 1-139, NCBI reference sequence YP_009725306.1
MW = 14.8 kDa
CAT # G19NP101
Catalog n.
Qty
Price
300,00

€

925,00

€

1.500,00

€

VAT not included
For any special request or bulk quantities Click Here
Additional information
| | |
| --- | --- |
| Shipping in Dry Ice | yes |
| Qty | 100 μg, 5 x 100 μg, 1 mg |
Description
DESCRIPTION
MW= 14.8 kDa. Full length nsp10 (growth-factor-like protein, GFL) from SARS-CoV-2, expressed in E. coli. The protein consists in residues 1-139 (NCBI reference sequence YP_009725306.1).
SEQUENCE
Numeration of the nsp10 from NCBI YP_009725306.1

        10         20         30         40         50         60 
AGNATEVPAN STVLSFCAFA VDAAKAYKDY LASGGQPITN CVKMLCTHTG TGQAITVTPE 
        70         80         90        100        110        120 
ANMDQESFGG ASCCLYCRCH IDHPNPKGFC DLKGKYVQIP TTCANDPVGF TLKNTVCTVC 
       130 
GMWKGYGCSC DQLREPMLQ 

ISOTOPIC ENRICHMENT
none
SUPPLIED AS
Protein solution. The concentration is calculated from the absorbance at 280nm (ε280 = 13700 M-1cm-1).
STORAGE
-20°C. After initial defrost, aliquot the product into individual tubes and refreeze at -20°C. Avoid repeated freeze/thaw cycles.
REFERENCES
Dong, S. et al.    J. Med. Virol. (March), 1–7 (2020).
Su, D. et al. J. Virol. 80 (16), 7902–7908 (2006).