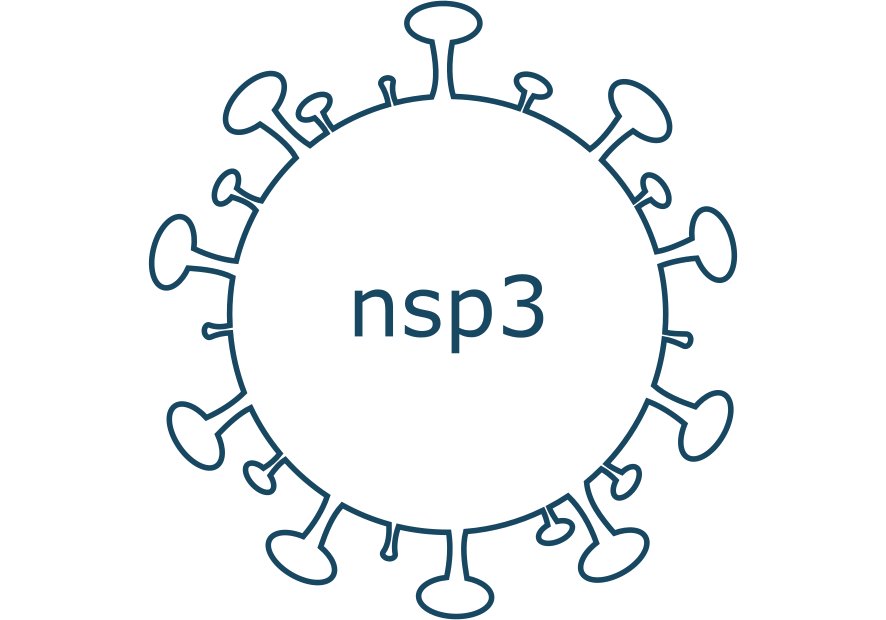 NSP3, ADP ribose phosphatase domain
300,00€ – 1.500,00€
from SARS-CoV-2, recombinant
alternative name: ADP ribose phosphatase, nsp3 macro x domain
Residues 206-426, NCBI reference sequence YP_009725299.1
MW = 25.4 kDa
CAT # G19NP031
Catalog n.
Qty
Price
300,00

€

925,00

€

1.500,00

€

VAT not included
For any special request or bulk quantities Click Here
Additional information
| | |
| --- | --- |
| Shipping in Dry Ice | yes |
| Qty | 100 μg, 5 x 100 μg, 1 mg |
Description
DESCRIPTION
MW= 25.4 kDa. 206-426 domain of nsp3 (ADP ribose phosphatase, nsp3 macro x domain) from SARS-CoV-2, expressed in E. coli. The protein consists in residues 206-426 (NCBI reference sequence YP_009725299.1) with an additional C-term his-tag (highlighted in italic in the scheme below).
SEQUENCE
Numeration of the nsp3 from NCBI YP_009725299.1
       210        220        230        240        250        260
   M-EVNSF SGYLKLTDNV YIKNADIVEE AKKVKPTVVV NAANVYLKHG GGVAGALNKA
       270        280        290        300        310        320      
TNNAMQVESD DYIATNGPLK VGGSCVLSGH NLAKHCLHVV GPNVNKGEDI QLLKSAYENF
       330        340        350        360        370        380
NQHEVLLAPL LSAGIFGADP IHSLRVCVDT VRTNVYLAVF DKNLYDKLVS SFLEMKSEKQ
       390        400        410        420               
VEQKIAEIPK EEVKPFITES KPSVEQRKQD DKKIKACVEE VTTTLE LEHHHHHH 

ISOTOPIC ENRICHMENT
none
SUPPLIED AS
Protein solution. The concentration is calculated from the absorbance at 280nm (ε280 = 10680 M-1cm-1).
STORAGE
-20°C. After initial defrost, aliquot the product into individual tubes and refreeze at -20°C. Avoid repeated freeze/thaw cycles.
REFERENCES
Dong, S. et al.    J. Med. Virol. (March), 1–7 (2020).