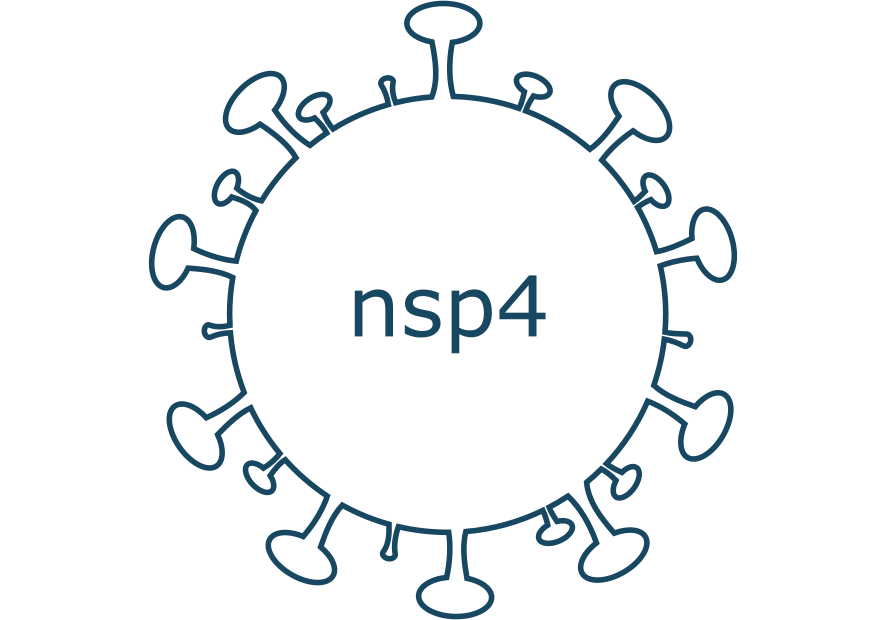 NSP4, C-terminal cytoplasmic domain
300,00€ – 1.500,00€
from SARS-CoV-2, recombinant
alternative name: C-terminal cytoplasmic domain of nsp4
Residues 406-500, NCBI reference sequence YP_009742611.1
MW = 10.7 kDa
CAT # G19NP041
Catalog n.
Qty
Price
300,00

€

925,00

€

1.500,00

€

VAT not included
For any special request or bulk quantities Click Here
Additional information
| | |
| --- | --- |
| Shipping in Dry Ice | yes |
| Qty | 100 μg, 5 x 100 μg, 1 mg |
Description
DESCRIPTION
MW= 10.7 kDa. C-terminal cytoplasmic domain of nsp4 from SARS-CoV-2, expressed in E. coli. The protein consists in residues 406-500 (NCBI reference sequence YP_009742611.1).
SEQUENCE
Numeration of the nsp4 from NCBI YP_009742611.1YP_009742611.1YP_009742611.1

       410        420        430        440        450        460 
     GVSFS TFEEAALCTF LLNKEMYLKL RSDVLLPLTQ YNRYLALYNK YKYFSGAMDT 
       470        480        490        500
TSYREAACCH LAKALNDFSN SGSDVLYQPP QTSITSAVLQ

ISOTOPIC ENRICHMENT
none
SUPPLIED AS
Protein solution. The concentration is calculated from the absorbance at 280nm (ε280 = 12045 M-1cm-1).
STORAGE
-20°C. After initial defrost, aliquot the product into individual tubes and refreeze at -20°C. Avoid repeated freeze/thaw cycles.
REFERENCES
Dong, S. et al.    J. Med. Virol. (March), 1–7 (2020).
Xu, X. et al.         PLoS One 4 (7), (2009).
Manolaridis, I. et al.       Acta Crystallogr. Sect. D Biol. Crystallogr. 65 (8), 839–846 (2009).