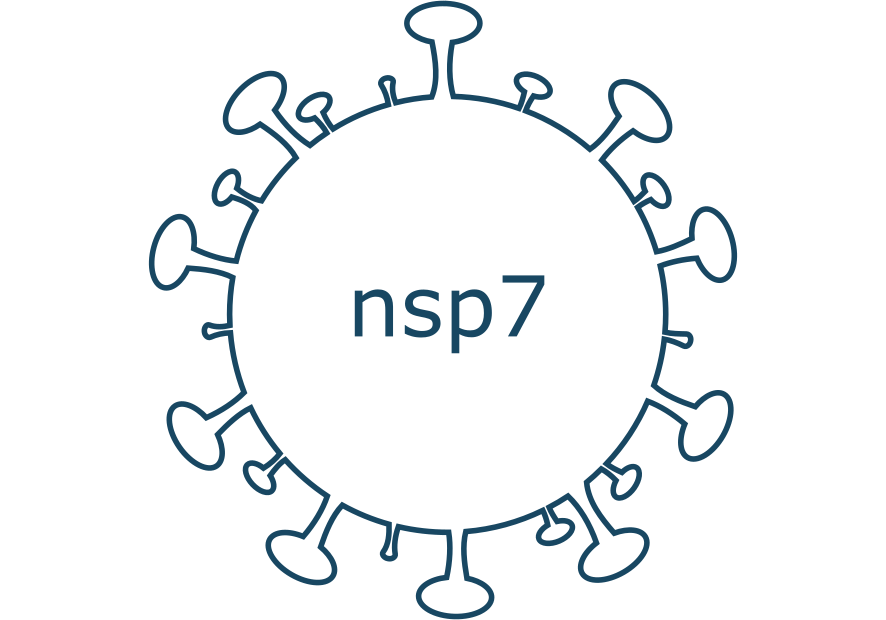 NSP7
300,00€ – 1.500,00€
from SARS-CoV-2, recombinant
Residues 1-83, NCBI reference sequence YP_009725303.1
MW = 9.2 kDa
CAT # G19NP071
Catalog n.
Qty
Price
300,00

€

925,00

€

1.500,00

€

VAT not included
For any special request or bulk quantities Click Here
Additional information
| | |
| --- | --- |
| Shipping in Dry Ice | yes |
| Qty | 100 μg, 5 x 100 μg, 1 mg |
Description
DESCRIPTION
MW= 9.2 kDa. Full length nsp7 from SARS-CoV-2, expressed in E. coli. The protein consists in residues 1-83 (NCBI reference sequence YP_009725303.1).
SEQUENCE
Numeration of the nsp7 from NCBI YP_009725303.1

        10         20         30         40         50         60 
SKMSDVKCTS VVLLSVLQQL RVESSSKLWA QCVQLHNDIL LAKDTTEAFE KMVSLLSVLL 
        70         80 
SMQGAVDINK LCEEMLDNRA TLQ 
 

ISOTOPIC ENRICHMENT
none
SUPPLIED AS
Protein solution. The concentration is calculated from the absorbance at 280nm (ε280 = 5625 M-1cm-1).
STORAGE
-20°C. After initial defrost, aliquot the product into individual tubes and refreeze at -20°C. Avoid repeated freeze/thaw cycles.
REFERENCES
Dong, S. et al.    J. Med. Virol. (March), 1–7 (2020).
Kirchdoerfer, R. N. & Ward, A. B. Nat. Commun. 10 (1), (2019).
Te Velthuis, A. J. W., Van Den Worm, S. H. E. & Snijder, E. J. Nucleic Acids Res. 40 (4), 1737–1747 (2012).