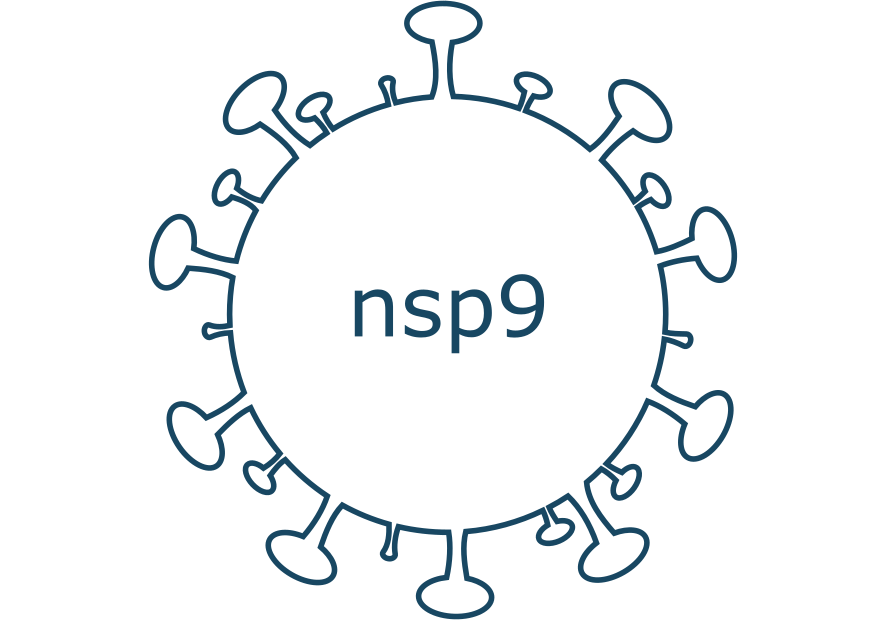 NSP9
– 2.260,00€
from SARS-CoV-2, recombinant
Residues 1-198, NCBI reference sequence YP_009725305.1
MW = 13.6 kDa
CAT # G19NP091
For any special request or bulk quantities Click Here
Additional information
| | |
| --- | --- |
| Shipping in Dry Ice | yes |
| Qty | 100 μg, 5 x 100 μg, 1 mg |
Description
DESCRIPTION
MW= 13.6 kDa. Full length nsp9 from SARS-CoV-2, expressed in E. coli. The protein consists in residues 1-198 (NCBI reference sequence YP_009725305.1). An additional his-tag is present at the C-term of the construct (highlighted in italic in the scheme below).
SEQUENCE
Numeration of the nsp9 from NCBI YP_009725305.1

                   10         20         30         40         50 
        M- NNELSPVALR QMSCAAGTTQ TACTDDNALA YYNTTKGGRF VLALLSDLQD 
        60         70         80         90        100        110
DLKWARFPKS GTGTIYTELE PPCRFVTDTP KGPKVKYLYF IKGLNNLNRG MVLGSLAATV

RLQ LEHHHHHH 

ISOTOPIC ENRICHMENT
none
SUPPLIED AS
Protein solution. The concentration is calculated from the absorbance at 280nm (ε280 = 13075 M-1cm-1).
STORAGE
-20°C. After initial defrost, aliquot the product into individual tubes and refreeze at -20°C. Avoid repeated freeze/thaw cycles.
REFERENCES
Dong, S. et al. J. Med. Virol. (March), 1–7 (2020). doi:10.1002/jmv.25768
Miknis, Z. J. et al. J. Virol. 83 (7), 3007–3018 (2009).