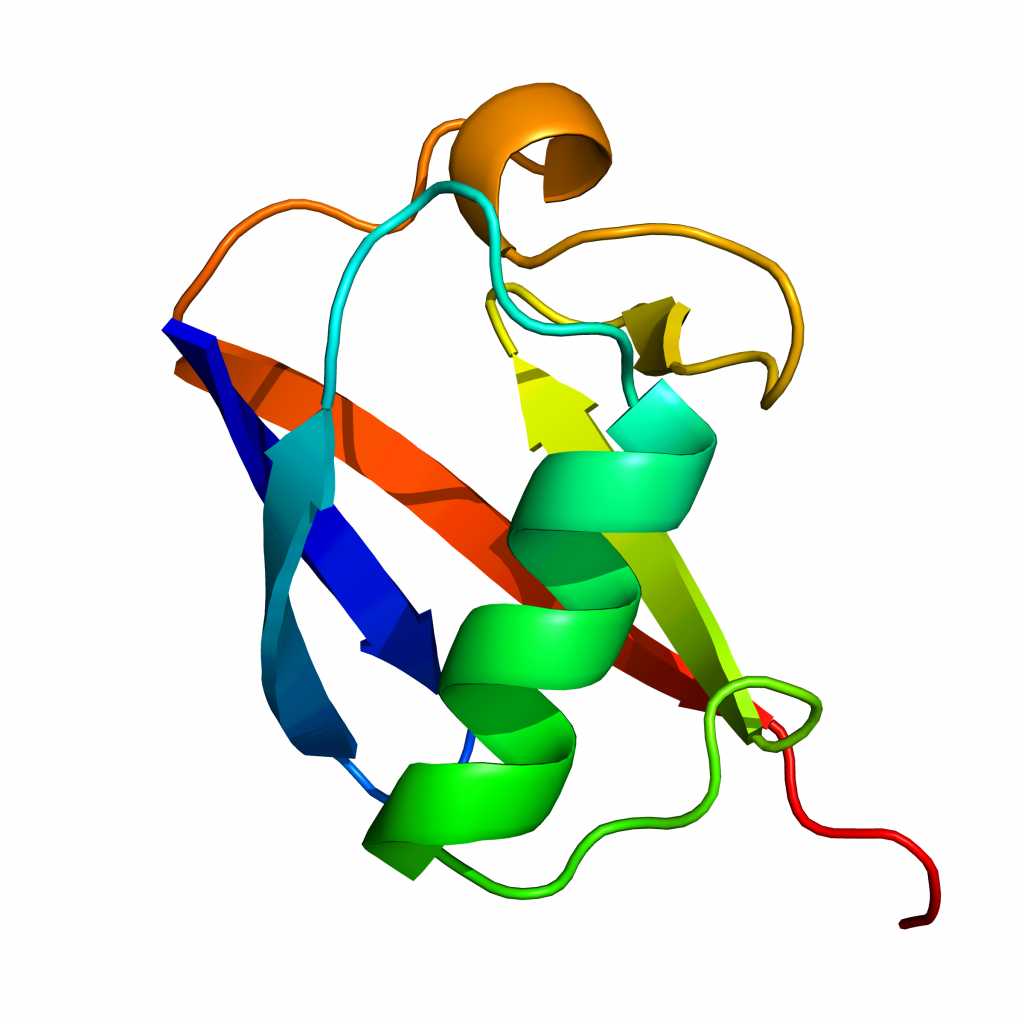 Ubiquitin
– 2.700,00€
Human, recombinant
Full length, UniProtKB accession P0CG47
MW = 8.6 kDa
CAT # G03UBQ01
For any special request or bulk quantities Click Here
Additional information
Description
Description
MW= 8.6 kDa calculated. Full length Ubiquitin cloned from human cDNA, expressed in E. coli. The protein consists of the human ubiquitin (residues 1-76, UniProtKB accession P0CG47).
Sequence  
        10         20         30         40         50
MQIFVKTLTG KTITLEVEPS DTIENVKAKI QDKEGIPPDQ QRLIFAGKQL 
        60         70 
EDGRTLSDYN IQKESTLHLV LRLRGG
Purity
> 95% by SDS-PAGE. The protein is observed, in denaturing conditions, as a single band migrating at molecular weight below 14.4 kDa.
Supplied as
1 mg/mL solution in phosphate buffer 50 mM pH 7, NaN3 0.02%. The concentration is calculated by the analysis of the absorbance at 280 nm (ε280 = 1490 M-1cm-1 calculated).
(unless otherwise specified, NMR tubes will be sold at a concentration of 1mM)
Characteristics
Under the above described conditions, to avoid precipitation or protein dimerization, the product can be concentrated up to 2mM.
Storage
-20°C. The protein is stable at 4°C for months. Avoid repeated freeze/thaw cycles.
NMR USE: after the experiments return the sample at 4°C.
References
Hurley, J.H., Lee, S. & Prag, G. Biochem. J. 399 (3), 361-372 (2006).
Igumenova, T.I., Wand, A.J. & McDermott, A.E. J. Am. Chem. Soc. 126 (16), 5323-5331 (2004).
Orlowski, R.Z. Cell Death Differ. 6 (4), 303-313 (1999).
Hershko, A. & Ciechanover, A. Annu. Rev. Biochem. 67 (1), 425-479 (1998).