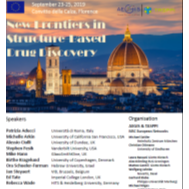 Sep 23-25, 2019 at Convitto della Calza in Florence, Italy.
International conference New Frontiers in Structure-Based Drug Discovery,
Attracting a high-level audience of researchers, the conference will provide a stimulating platform to discuss with academic experts and scientists from biotech and pharmaceutical industries. Topics include innovative screens on protein-protein interactions, novel targets and target validation, structure-based drug discovery, computational approaches and more. The conference will provide a valuable platform to discuss the challenges and opportunities of modern drug discovery in academia and industry.
For more info and registrations click here