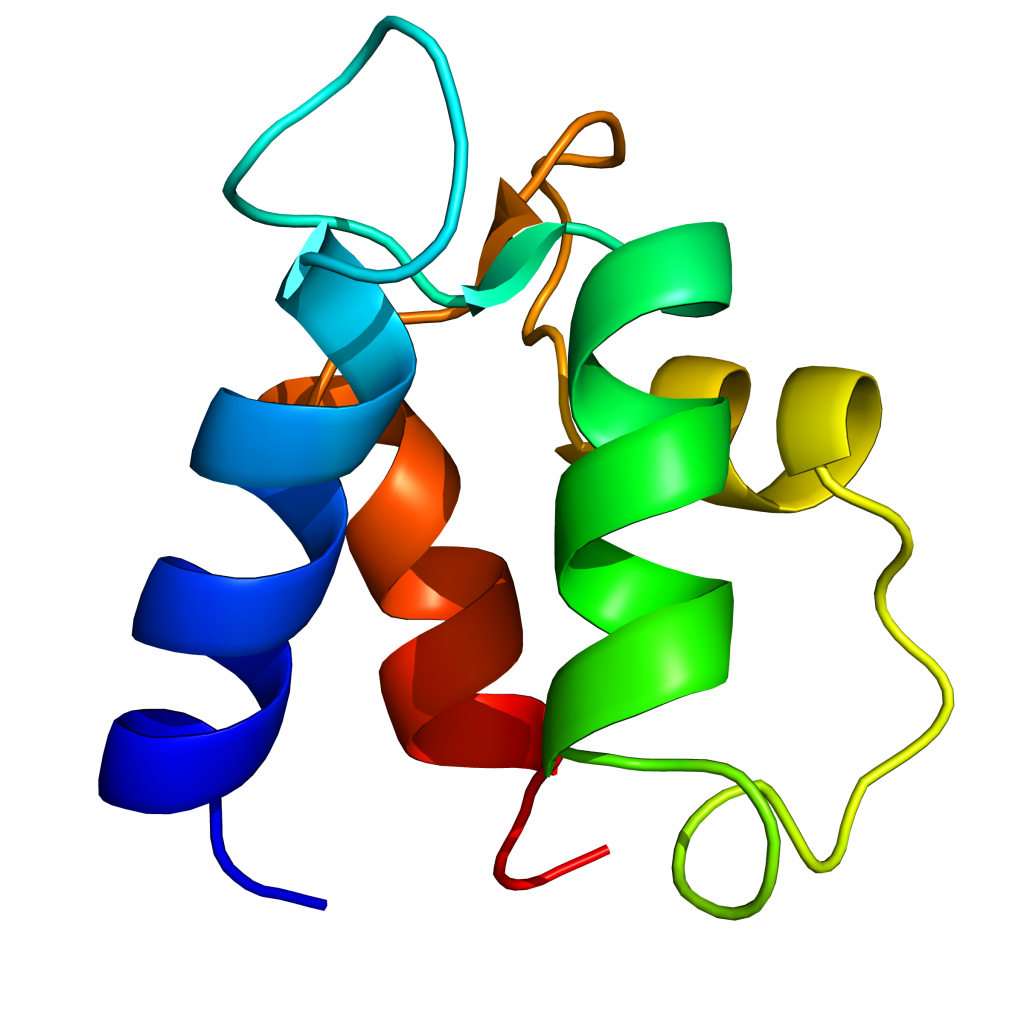 Calbindin D9K
– 3.700,00€
Bovine, recombinant
residues 5-79, P47M mutant, UniProtKB accession P02633
MW = 8.5 kDa
CAT # G02CLB01
Catalog n.
Labeling
NMR Standard
Qty
Price
280,00

€

780,00

€

1.220,00

€

1.900,00

€

530,00

€

1.500,00

€

2.350,00

€

3.700,00

€

990,00

€

1.860,00

€

Request a quote
Request a quote
Request a quote
Request a quote
Request a quote
Request a quote
VAT not included
For any special request or bulk quantities Click Here
Additional information
| | |
| --- | --- |
| Labeling | none |
| Qty | 1 mg, 5 mg, 10 mg, 20 mg |
| NMR Standard | Bulk sample |
Description
Description
MW = 8.5 kDa calculated. Calbindin D9K (Protein S100-G, CABP, Vitamin D-dependent calcium-binding protein, Intestinal) cloned from bovine cDNA, expressed in E. coli. The protein consists of Calbindin D9K, mutant P47M(residues 5-79, UniProtKB accession P02633) with 2 Ca2+ ions bound.
Sequence
        10         20         30         40         50
  M-KSPEEL KGIFEKYAAK EGDPNQLSKE ELKLLLQTEF PSLLKGPSTL 
        60         70 
DELFEELDKN GDGEVSFEEF QVLVKKISQ
Purity
> 95% by SDS-PAGE. The protein is observed, in denaturing conditions, as a single band migrating at molecular weight below 14.4 kDa.
Supplied as
1.0 mg/mL solution in ammonium acetate 50 mM pH 6.0. The concentration is calculated by the analysis of the absorbance at 280 nm (ε280 = 1280 M-1cm-1 calculated).
(unless otherwise specified, NMR tubes will be sold at a concentration of 1mM)
Characteristics
Under the above described conditions, to avoid precipitation or protein dimerization, the product can be concentrated up to 2 mM.
Storage
-20°C. The protein is stable at 4°C for at least 2 weeks and at 25°C for several hours. After initial defrost, aliquot the product into individual tubes and refreeze at -20°C. Avoid repeated freeze/thaw cycles.
NMR USE: after the experiments return the sample at 4°C.
References
Kördel, J., Pearlman, D.A. & Chazin, W.J. J. Biomol. NMR 10 (3), 231-243 (1997).
Williams, R.J. Cell Calcium 20 (1), 87-93 (1996).
Skelton, N.J., Kördel, J. & Chazin, W.J. J. Mol. Biol. 249 (2), 441-462 (1995).
Assignments Available
1H, 13C, 15N, item 201CAB-0: J.Am.Chem.Soc. 123: 4181-4188, 2001; J.Biomol.NMR 21: 85-98, 2001
1H, 13C, 15N, item 201CAB-Ce: J.Am.Chem.Soc. 123: 4181-4188, 2001; ChemBioChem 2: 550-558, 2001
1H, 15N, items 201CAB-La, 201CAB-Nd, 201CAB-Pr, 201CAB-Sm, 201CAB-Eu, 201CAB-Tb, 201CABDy, 201CAB-Ho, 201CAB-Er, 201CAB-Tm, 201CAB-Yb: J.Am.Chem.Soc. 123: 4181-4188, 2001; Eur.J.Inorg.Chem. 2121-2127, 2002